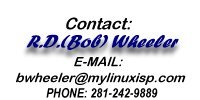 GENERAL COMPUTER DRAFTING
Specializing in AutoCAD:
Piping and Instrument Drawings
Electronic Schematics & Electronic Logic Diagrams
Associates Degree in Drafting Technology with over twelve years experience in generating Electronic Schematics and
Electronic Logic Diagrams. Over ten years experience in creating Piping and Instrument Diagrams, Electrical Control
Logic Diagrams, Electrical Installation Drawings, and Piping Drawings.
WEB PAGE SERVICE
Web pages I have created:
"Sugar Land Sharks Swim Team"
"All-Affordable Termite & Pest Control"
"Bob's Corral"
"John "Duke" Wayne - A Tribute"
This site created with
Microsoft Front Page 4.0